Panasonic Aquarea – tepelné čerpadlo vzduch – voda, ktoré ponúka až do 80% úspory nákladov za vykurovanie a nevyžaduje zemné práce.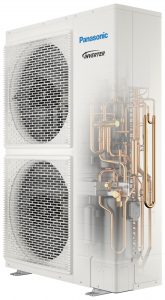 Hľadáte pre vašu domácnosť účinné a jednoduché riešenie pre vykurovanie
a ohrev teplej vody? Tepelné čerpadlá Panasonic Aquarea vám zabezpečia vykurovanie, chladenie a prípravu TÚV pomocou jedného systému, s úsporou energie aj prevádzkových nákladov domácnosti. Navyše môžete na inštaláciu tepelného čerpadla využiť štátnu dotáciu a znížiť si náklad podľa výkonu zariadenia až do 3400€.
Objednajte si tepelné čerpadlo Panasonic Aquarea
a získajte 10% zľavu na nákup zariadenia! 
Tepelné čerpadlo Aquarea (vzduch – voda) v skratke
vykurovanie, chladenie a príprava TÚV pomocou jedného systému
energeticky účinnejšia alternatíva k plynovému, elektrickému vykurovaniu, alebo k vykurovaniu na tuhé palivá
vysokoúčinné riešenie: udržuje vykurovací výkon aj pri nízkych teplotách bez pomocného elektrického ohrievača
možno pripojiť k solárnym panelom a tým výrazne zvýšiť COP v letnom období
technológia, ktorá sa prispôsobí každému projektu
vhodné pre podlahové vykurovanie, radiátory a fancoily
nižšie výdavky za vykurovanie a náklady na údržbu
šetrnosť k životnému prostrediu – zníženie uhlíkovej stopy
jednoduchá integrácia do existujúcich systémov vykurovania
ideálne pre nehnuteľnosti bez prístupu k plynovej sieti
umiestnenie do exteriéru šetrí cenný obytný priestor (monoblok)

Ako to funguje? Koľko to stojí? Oplatí sa to?
Ako funguje tepelné čerpadlo?
Tepelné čerpadlo Aquarea vzduch – voda využíva nízkopotenciálne teplo okolitého vzduchu. Kompresorovým chladiacim okruhom ho prevádza na vyššiu teplotnú úroveň a odovzdáva ho do vody, ktorá je potom pripravená na použitie vo vykurovacom systéme a pre zaistenie TÚV v celej vašej domácnosti. V prípade požiadavky dokáže tepelné čerpadlo aj chladiť a to
s pomocou vnútorných jednotiek fancoil. Najnovšia technológia spoločnosti Panasonic ponúka trvalo udržateľnú a účinnejšiu alternatívu k plynovému, elektrickému vykurovaniu a vykurovaniu na tuhé palivá.
Čo znamená COP a A2 / W35? 
COP – vykurovací faktor, udáva pomer získaného výkonu a dodaného elektrického príkonu. Čím vyššie je COP, tým efektívnejšie tepelné čerpadlo pracuje – zabezpečuje vysoký výkon pri nízkej spotrebe elektrickej energie.
Pre možnosť porovnania jednotlivých tepelných čerpadiel je nutné poznať vykurovací faktor pri rovnakých podmienkach. Parameter A2 / W35 určuje vykurovací faktor tepelného čerpadla pri teplote vonkajšieho vzduchu 2°C
a výstupnej teplote vykurovacej vody 35°C.
Kotol na uhlie vs. tepelné čerpadlo
Vykurovacie systémy so zdrojom tepla z tuhých palív sú často predimenzované, pretože počítajú s prerušovanou prevádzkou. Zároveň sú navrhnuté na samoťažnú prevádzku, ktorá vyžaduje veľký objem vykurovacej vody v telesách a veľké prierezy prepojovacieho potrubia. Tepelné čerpadlo je schopné dosiahnuť rovnaký tepelný výkon, avšak pracuje s menším teplotným spádom. Zároveň, obsluha tepelného čerpadla je čistá a nenáročná.
Koľko stojí tepelné čerpadlo vzduch-voda?
Investícia do tepelného čerpadla v sebe obsahuje cenu tepelného čerpadla (zariadenie) + cenu inštalácie. Prehľad všetkých jednotiek a cien nájdete na našej webovej stránke: https://www.klimavex.sk/tepelne-cerpadlo-aquarea/. Na nákup všetkých jednotiek sa vzťahuje akciová zľava 10%.
Príklad: Cena 7kW tepelného čerpadla split WH-SDC0709J3E5 + WH-UD07JE5 s ekologickým chladivom R32 po akciovej zľave 10% a max. štátnej dotácii 2040€ (pre tento model) bude cca 3434€ s DPH.
Cena inštalácie je pre každú domácnosť individuálna a pre spracovanie cenovej ponuky inštalácie je potrebná osobná obhliadka inštalačnou firmou.

Vďaka vysokej efektivite aj pri nízkych teplotách prinášajú tepelné čerpadlá Panasonic Aquarea veľké energetické úspory a sú ohľaduplné k životnému prostrediu, pretože teplo nevytvárajú, ale prenášajú. Oproti elektrickým ohrievačom dokáže usporiť až 80% výdavkov za vykurovanie. Napríklad systém Aquarea s výkonom 3kW má COP=5,33. To je 5,33krát viac, než má bežný elektrický vykurovací systém, ktorý má maximálne COP=1.
Akú čiastku mi môže pokryť štátna dotácia a ako je možné ju získať?
Na nákup a inštaláciu tepelného čerpadla (pre výmenu plynového kotla alebo iného vykurovacieho zariadenia) je možné využiť štátnu dotáciu Zelená úsporám (dotácia podľa výkonu zariadenia) až do výšky 3400€.
Aktuálne je možné požiadať o dotácie vo všetkých krajoch SR, okrem Bratislavského.
Je ovládanie tepelného čerpadla zložité?
Nastavenie tepelného čerpadla a zaregulovanie vykonáva inštalačná firma pri spúšťaní systému. Riadenie je autonómne, bez potreby zásahu užívateľa, pomocou tzv. ekvitermickej regulácie (prispôsobenie výstupnej teploty vykurovacej vody v závislosti od aktuálnej vonkajšej teploty). V prípade nedostatku výkonu sám spúšťa záložný zdroj (elektrický ohrev). Užívateľ môže na doladenie teplotného komfortu jednoducho ovládačom posúvať ekvitermickú krivku, resp. môže priamo nastavovať požadovanú interiérovú teplotu (ak je ovládač použitý, ako priestorový termostat).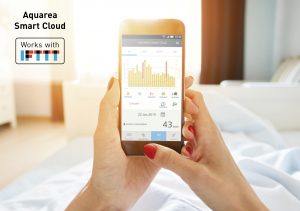 Technológia Panasonic Aquarea navyše ponúka cloudové vzdialené ovládanie  Aquarea Smart Cloud pre koncových užívateľov a Aquarea Service Cloud pre inštalačné firmy. Jedná sa o výkonnú a intuitívnu službu pre diaľkové riadenie úplného rozsahu funkcií vykurovania a ohrevu vody a to vrátane monitorovania spotreby energie. Užívateľ sa pripojí pomocou bezdrôtovej alebo káblovej siete LAN k portálu cloudu a dokáže diaľkovo riadiť všetky funkcie zariadenia. Navyše môže umožniť inštalačnej firme pristupovať k prispôsobeným funkciám na účely vzdialenej údržby a monitorovania. Servisný cloud Aquarea umožňuje inštalačným firmám starostlivosť o vykurovací systém zákazníkov na diaľku. Vďaka tomu môžu servisné spoločnosti riešiť prediktívnu údržbu, ladenie systému, či riešiť prípadné poruchy bez toho, aby musel byť vykonaný výjazd na miesto inštalácie(ďalšia úspora nákladov). Využitie aplikácie Aquarea Service Cloud ušetrí čas, peniaze a skráti čas reakcie, čo vedie k vyššej spokojnosti zákazníkov.
Servis tepelného čerpadla Panasonic Aquarea a riešenie prípadných porúch zabezpečuje inštalačná spoločnosť.