Tepelné čerpadlá vzduch-voda – ako na to?
Tepelná čerpadla jsou moderní a ekologické zdroje tepla pro vytápění a ohřev teplé užitkové vody. Jsou zkonstruována tak, aby mohla odebírat s co největší účinností teplo z okolního prostředí. Typicky ze vzduchu, ze země nebo z povrchové a podzemní vody. Tato prostředí pak získávají teplo ze slunce, z větru nebo z deště. Nazýváme je tedy obnovitelnými zdroji energie.

Tepelné čerpadlo odebírá okolnímu prostředí teplo na primárním tepelném výměníku. Na druhé straně předává získané teplo topnému médiu. Obvykle to bývá topná voda, může ale být přímo ohříván vzduch ve vytápěném prostoru. Podle způsobu získávání tepla na jedné straně (primární) a podle způsobu předávání tepla na straně druhé (sekundární) pak rozlišujeme nejobvyklejší druhy tepelných čerpadel: vzduch/voda, vzduch/vzduch, země/voda, voda/voda.
Obnovitelné zdroje energie mají obvykle nízkou teplotu, cca 15 °C a nižší, nazýváme je nízkopotenciální zdroje tepla. S nízkou teplotou tedy pracuje primární výměník tepla. Na sekundárním výměníku ale potřebujeme dosáhnout teplotu vyšší, tak abychom mohli účinně topit nebo ohřívat užitkovou vodu.
Jak toho tepelné čerpadlo dosáhne? Pomocí komprese a expanze plynu v hermeticky uzavřeném okruhu převede nízkopotenciální teplo získané na primárním výměníku na vyšší teplotu a získané teplo odevzdá na sekundárním výměníku topné vodě nebo vzduchu. V principu je to velmi jednoduché a vypadá to, že získané teplo je zadarmo. Ale tak úplně zadarmo to není. Ke kompresi plynných složek chladiva v chladivovém okruhu potřebujeme kompresor. Ten je poháněn elektrickou energií a nemá zcela zanedbatelnou spotřebu. Nicméně dnešní tepelná čerpadla potřebují dodat zhruba 1 kW elektrické energie na to aby vyrobila cca 3–4,5 kW tepla. Poměr přivedené a vyrobené energie se nazývá COP (coeficient of performance) a každý výrobce ho udává ve svých propagačních i technických materiálech. Jedná se o parametr kvality tepelného čerpadla. K tomuto parametru by ale měl solidní výrobce uvést i podmínky za jakých je ho (obvykle v laboratoři) dosahováno. Tak například COP s hodnotou 4,75 při A7/W35 znamená, že tepelné čerpadlo vzduch/voda dosahuje COP 4,75 při teplotě venkovního vzduchu 7 °C a teplotě topné vody 35 °C. Hodnota COP bude klesat s klesající venkovní teplotou a narůstající teplotou topné vody.
To stejné tepelné čerpadlo může pak mít hodnotu COP 2 při A−15/W45. Při −15 °C venkovního vzduchu a teplotě topné vody 45 °C tak bude stále z jedné kW přivedené elektrické energie do kompresoru získávat 2 kW tepla.
S klesající teplotou venkovního vzduchu klesá kromě hodnoty COP i výkon tepelného čerpadla. Tepelné čerpadlo s garantovaným výkonem 9 kW při +7 °C bude mít při −15 °C výkon 6 kW. Chybějící výkon je potřeba dodat tzv. bivalentním (doplňkovým) zdrojem tepla. Nejlevnější a také nejobvyklejší řešení je použití malého elektrokotle, který je součástí tepelného čerpadla. Ten je využitý jen při nízkých venkovních teplotách, zatímco po většinu topné sezony si vystačí tepelné čerpadlo bez něj.
Tepelné čerpadlo pak spotřebovává další energii na pohon oběhových čerpadel, regulací atd. Hodnota COP udávaná v propagačních materiálech výrobce je tedy jen ukazatelem kvality tepelného čerpadla samotného. Důležité je ale to, jak se podaří sladit tepelné čerpadlo s topnou soustavou a vůbec s celým objektem a jeho regulací. Z toho pak vyplyne parametr, který výrobce nemůže udávat. Je to sezónní topný faktor a jedná se o poměr spotřebované energie k energii vyrobené za celou topnou sezonu. Teprve ten ukáže, kolik peněz Vaše tepelné čerpadlo skutečně ušetří. Je výsledkem návrhu vhodného tepelného čerpadla pro Váš objekt a jeho správné instalace.
Jak tedy vybírat tepelné čerpadlo pro Váš dům? Není to úplně jednoduché. Je potřeba zhodnotit více informací o Vašem domu a navrhnout tepelné čerpadlo, které bude odpovídat jak Vašim požadavkům, tak Vašim finančním možnostem a ve finále bude dosahovat maximální možnou úsporu. Proto svěřte návrh i instalaci tepelného čerpadla odborné firmě se zkušenostmi. Jedině taková Vám dá garanci úspory, o kterou jde především. Dále Vám zajistí dlouhodobě bezproblémový chod Vašeho tepelného čerpadla, jeho kvalitní záruční i pozáruční servis. Věřte že špatně navržené a často polámané tepelné čerpadlo Vám očekávanou úsporu Vašich peněz zcela určitě nepřinese.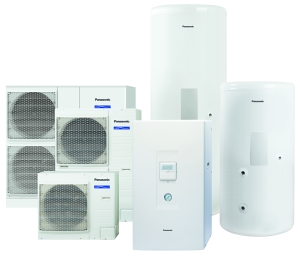 Řešení s tepelnými čerpadly vzduch/voda je stále oblíbenější díky svojí příznivé ceně a jednoduché instalaci. Výrobci těchto tepelných čerpadel přicházejí neustále s novinkami v jejich vývoji. Dávno už neplatí, že vzduchové tepelné čerpadlo je hlučné a málo účinné. Naopak, účinnost je velmi slušná a cena příznivá. Výhodou je jednoduchá a rychlá instalace.
Vzduchová tepelná čerpadla Panasonic AQUAREA přišla na trh s novinkou.Chladivový okruh technicky velmi zdařilé základní řady byl "vyladěn" tak, aby podával maximální výkon i při velmi nízkých venkovních teplotách. Tuto úpravu nazval "T-CAP" (zkratka z angl. total capacity = maximální výkon). Tepelné čerpadlo s tímto označením dokáže udržet požadovaný výkon a optimální parametry bez použití pomocného elektrokotle, a to až do −15 °C venkovní teploty.
Tepelná čerpadla Panasonic AQUAREA jsou speciálně navržena pro vytápění domácností a menších komerčních objektů včetně zajištění ohřevu teplé užitkové vody. Hodí se jak pro moderní podlahové vytápění, tak pro starší topné soustavy s radiátory. Mají možnost vzdáleného ovládání přes internet nebo mobilním telefonem. V nabídce najdeme i malá tepelná čerpadla s výkony už od 3 kW vhodná pro nízkoenergetické domy. Pro větší aplikace jako hotely, penziony a bytové domy je určena řada AQUAREA PRO s elektrickými nebo i plynovými tepelnými čerpadly.